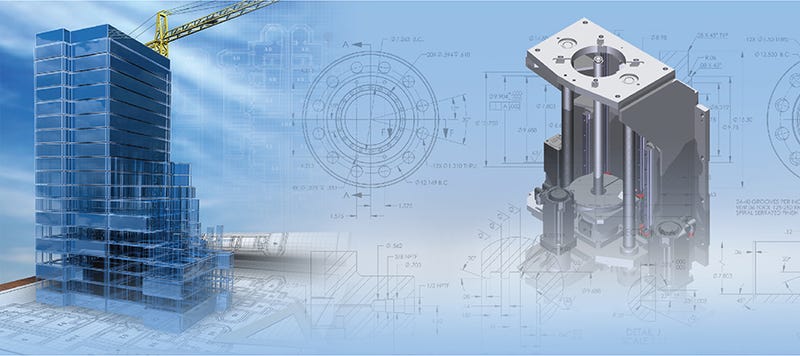 CAD or Computer-Aided Design is one of the most common and the most efficient methodology used for drafting the preliminary designs of a variety of architectural projects and also of different types of products in the manufacturing industry. After finishing the CAD drawings, an engineer or designer can truly predict as how the product or the structure is going to appear in the final stage. The CAD drawings are developed by using computer software called as AutoCAD. The AutoCAD 3D and AutoCAD 2D drawings give the knowledge of all the aspects of the project such as the accurate dimensions, materials used etc. The process of development of 2D drawings by using the software is known as CAD drafting and the development of 3D drawings is known as CAD modeling.
CAD is being implemented in each and every field of engineering such as:
Construction industry for the design of building drawings.

Building products manufacturing industries to develop the designs of a wide range of sheet metal products.

Structural steel building industries for the development of shop drawings.

Automobile industries for the design of individual auto ancillary's parts.

Animation industry to design various special characters.

The CAD drawings simplify the whole design process in a number of ways. Designers can easily switch between 2D and 3D in the design process. There is no need to scale the AutoCAD 3D and AutoCAD 2D drawings. All the drawings are done at a full size. The drawings or images can be rotated to view from different angles. All the dimensioning tools for the 2D drawings and the 3D drawings can be inserted in an easy manner using the AutoCAD software. Moreover, any change in a particular place adjusts and changes the whole design automatically.
The various benefits that CAD drawings provided in the organizations are:
They effectively reduce the product lifecycle time.

They enhance the communication between the service providers and the clients.

Any flaws or errors in the design can be effectively tracked in the initial phases of the project itself.

Highly accurate drawings are being developed in a short interval of time.

Drawings can be stored and transmitted electronically in different formats.

Would like to discuss your requirements? CAD Outsourcing Services always help to your CAD drafting & drawings projects for the several industries such as construction, building products fabricators, furniture manufacturer, and design engineering firms.